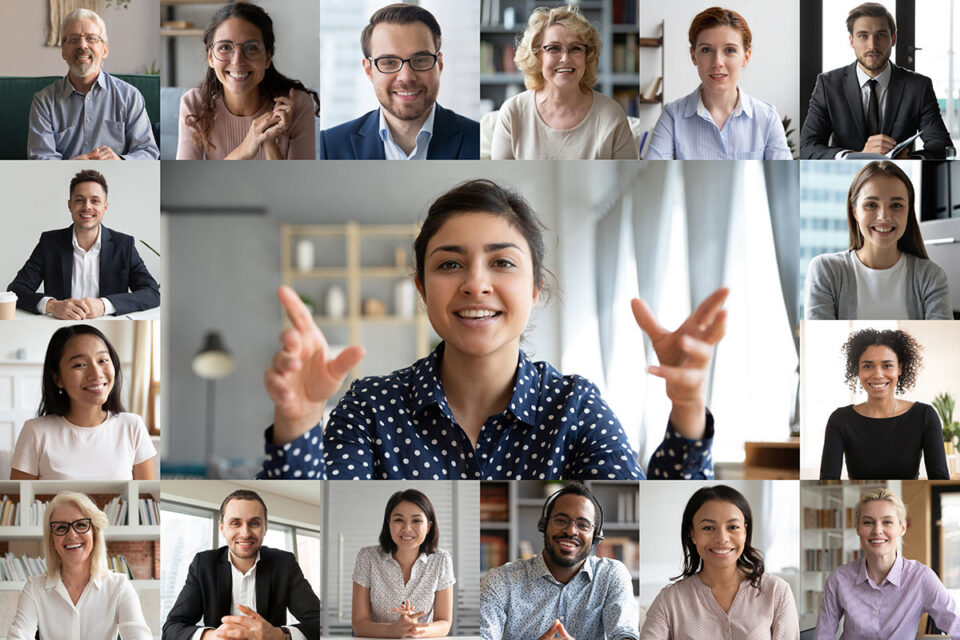 How to create and manage webinars in 2022
---
When the movie, Back to the Future II premiered in 1989, people were watching with amazement as one of the characters had a video call on his TV. What was sci-fi thirty years ago is now part of our everyday lives. We talk online with our friends and family, we organize meetings with our employees or we just run errands using the camera of our computer or phone.
The coronavirus pandemic has only further increased the demand for online conferences, events and meetings, and of course webinars, i.e. online seminars. However, to make your event really successful, it doesn't hurt to be aware of the requirements of a well-organized webinar. Our article will guide you with useful tips to help your online event achieve its goal and be a success!
Features of a webinar
The word itself originated from a combination of the English words web (web) and seminar (seminar) back in the mid-2000s. The essence of the seminar used in universities is interactivity, i.e. the dialogue between the lecturer and the students. Unlike online presentations, a webinar can be given to not only the speaker, but anyone (who is eligible to do so). However, there is still a presenter who's responsible for sharing information with the audience, which distinguishes webinars from online meetings.
One of the key benefits of webinars is that they are truly cost effective. A traditional, in-person conference requires a room with adequate capacity, sound system, technicians, parking spaces or even catering, and so much more. In the online space, the presentation can be held for a fraction of the cost.
In addition, a webinar is cheaper not only for the organizer but also for the participants. They do not have to travel to the site, possibly book accommodation there and provide all-day catering. Fortunately, the webinars are staff-independent. While for traditional conferences, the capacity of the venue determines how many can attend, almost any number can join a link.
At least ideally, as the webinar's equipment requirements need to be tailored to its size. The most important thing is that the system should be able to serve dozens or even hundreds of participants, without having the video or audio frozen all the time. As an organizer, you need to ensure that you use a good quality camera and sound technology, and possibly a presentation. You also need to make sure that the system is easy to use for those who are not so familiar with the world of IT (you can even help with this before the webinar).
---
Here's how to organize a successful webinar
What can you use a webinar for?
One of the most obvious uses of online technology is training or teaching. Acquiring and passing on new knowledge is necessary in the life of any company or university. The webinar also provides a great opportunity to present your product and service to customers. However, it's also perfect for interviewing: you can ask for a reputable expert with whom you can then have an interactive conversation.
Steps to organize
The first step, of course, is to decide what the webinar will be about. Not just roughly, but in detail. An online seminar can't last forever, so you need to narrow down what you have to say. Topics that are too general can easily make the audience lose interest, but a topic that is too specific is not enjoyable either. It is also important to know exactly when to speak and what you are going to say if you have more than one speaker.
Even the best performers in the world write a script for themselves. You can also write your own text in advance, but here you will also need some flexibility, as the visuals are also important. What is your background? Where does the camera stand? What presentations and visuals do you make and how will your audience see them? Think of each topic and you'll feel much prepared!
Technology tends to drive you crazy if you don't prepare thoroughly. Fortunately, there are apps specifically designed for webinars that are easy to use for beginners. For a private event you will need to send an invitation that your guests can click to join. These should be posted weeks or days before the date of the webinar. If you also have guest speakers, ask them about the presentations and slides you want to use for the seminar, and check that they meet the requirements in all aspects(e.g., resolution, embedded videos, external links).
Practice and time management
 You can't prepare for unexpected situations, but you can prepare for everything else. We recommend you to have a few rehearsals, where you can clear up the script and test the technical tools as well. A good webinar stays within the determined time frame. If your event is interactive, you should also include time for questions. You also need to prepare if one performer slips a little or finishes up earlier. Good time management is key to a great webinar.
Disadvantages of the webinar
In an offline seminar, there is a good case for a technician to take immediate action when technical difficulties occur. In the online space, it is typically up to you to remedy your IT problems. The biggest – and unavoidable – disadvantage of webinars is maintaining the student's attention. It's much easier to connect with the audience live, people can dissolve much more easily, and they can concentrate on live events for longer.
Sitting in front of their computer, your students wander much faster. You should also expect that asking questions is much more difficult online. It is enough in a live conference to put our hand up if we ask for a word, but this is not how it works online. That's why you need to anticipate a method where you can track and coordinate who is asking a question and how you can clearly indicate that.
Tips and advice
This way the guests can refresh themselves, eat some snacks and have a drink. Consider these needs for a webinar as well!
The best way to keep your focus is to keep your audience engaged. It can be voting, playing, asking and answering, and so on. A professional organizing team can be a great help in this.
Treat the guests with something!
It is very common in in-person conferences for the guests to receive some kind of a gift. You can also do this online, for example in the form of a discount coupon, access to exclusive content or a package sent by post.
If you're holding the webinar from your home, it's not very professional if your family members pop up in front of the camera every 10 minutes. Instead, book a separate room for conference time where you can work in peace and undisturbed.
Organizing quality online events
If you don't want to deal with technical tools, location and promotion, you can ask for professional help. Companies that specialize in webinars take over every task from you, so you only have to focus on the main point, which is what you have to say.
They can assist you in promoting the event as well by creating a high-quality website where you can set up the registration process and share all of the information. Of course, they can also help you make presentations and they can offer you a wide selection of possible venues.
Whatever camera you have on your phone or laptop, you can hardly compete with the cameras provided by the webinar company. They also offer multi-camera streaming, which is already similar to a regular TV show. To make your presentation even more put together, you can be supported with a green box background, LED wall or even a teleprompter.
We have been organizing conferences at AKCongress since 2009, so we offer a complete package for your events. In addition to the above mentioned, you can count on us in many other areas. Whether it's planning your costs, finding potential advertisers, or just getting in touch with your invitees, our skilled team is working to fit the highest standards.
The experience is the same
Many may still be a little afraid of online conferencing today, saying they can't make up for the magic of a personal presence. You need to keep in mind that a lot of students will be unfamiliar with the webinar. If you do it right, maybe you can change their minds: a high-quality, well-organized seminar can be at least as much of an experience as sitting in a room.
Moreover, the possibilities are perhaps even wider, as it is quite difficult to gather people and famous performers from all over the world. All of this could be a few clicks on the internet, so you can invite professionals, artists and scientists who would hardly take a long trip for the sake of the seminar. Thankfully, they can turn on their camera anywhere!
Picture: Shutterstock
---
---