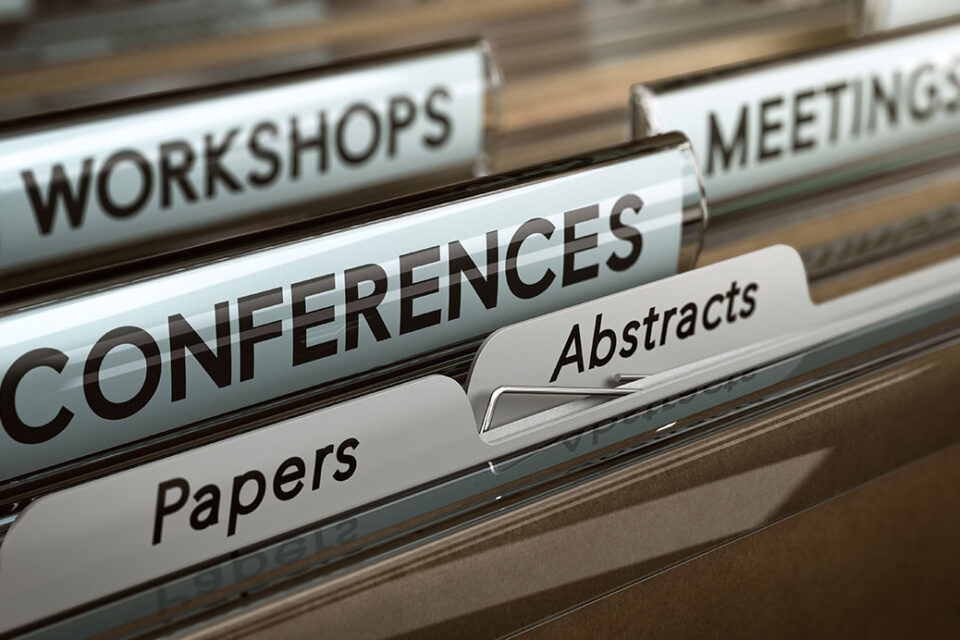 How to write an abstract for a conference – read our guide
---
The idea of conference abstract may sound unfamiliar to many. It is essentially a short, compact and understandable summary of a longer content. You can use it to generate interest in your topic, while on the event you can make the presentation easier to follow.
On the other hand, the abstract is not only important at conferences. You may be asked to write a document like this for a thesis, a presentation, for applications and so on. That's why it's worth learning the ins and outs of abstract writing, as it is a tightly knit doctrine. Our article will help you!
The criteria of abstracts
In the world of science and research, it's not uncommon at all to find studies, papers, dissertations, theses and other documents of hundreds or thousands of pages. If everyone would have to read them all, we would probably still be studying the description of steam engines. A clear and concise summary of the content makes it much easier to read and understand lengthy texts.
You can even think about the abstract as an advertisement: if it's done well, it will get people's attention. Otherwise, your valuable work might not get enough attention because you didn't promote it effectively enough with the abstract. However, the language of the abstract does not allow the "big words" of marketing: make sure you always stay objective.
An abstract can have three basic purposes. We have already mentioned the first: to attract attention. The content – summarised in a nutshell – is a good guide for readers as to whether it is worth it for them to pick up the whole research or presentation. If they do, the abstract will come in handy as they read. An abstract will help them follow your thoughts and argument. Because they already have the basic information about the content, they can see the big picture through more easily.
It could be hardly expected from anyone to remember every single detail of a writing with thousands of words. The abstract is useful in this relation too: even if readers or listeners can't remember everything, the abstract helps them to recall main ideas and conclusions of the work. The abstract can therefore support your career and your visibility – even in longer terms.
The world of conferences is unimaginable without abstracts. If you attend, you often receive the abstracts for each presentation in advance. This way you will know exactly the speaker's theme and what the key points of his or her topic will be. And if you are the one who must present a research, you will be asked for an abstract to help others.
The golden rules of making an abstract
Before we get into the golden rules, we need to clarify another important fact. Each institution – whether it is a university, a research centre or the organiser of a conference or a seminar – may have specific criteria for abstracts. In particular, the way they are submitted. They may only accept it in a specified file format (e.g. .doc or .pdf), Always check the requirements before submitting your abstract!
Formal requirements
Let's start with perhaps the most important thing: the abstract's length. While your presentation can contain several pages of A4, the abstract should fit on a single "page". In practice, this means broadly 1500-2500 characters or 250-350 words.
Unless the requirements say otherwise, use Times New Roman font, 12 point font size, 1.5 spacing, line spacing and normal margins.
The main points (more on this in the structure) should be listed as headings in the text.
Content requirements
The content of the abstract is as bound as its form. The No. 1 rule here is to stick to the objective tone and use the lingo! Since you have a very limited number of characters, you must learn to focus on the point. There is no room in an abstract for side-talk or space-filling texts.
Your sentences should follow a well-defined logic that makes your thoughts clear to anyone. It probably goes without saying: the abstract should also be a unique text! Don't copy-paste anything from your presentation/research/thesis, and – of course! – neither from other people's abstracts.
The structure of abstracts
Whether you are asked to write an abstract in Hungarian or in a foreign language, you can use this detailed structure below! In fact, you have to, as there is no flexibility in this area either. This structure is designed to give anyone an immediate overview of your work and an idea of your topic. Since the number of characters is also given, you have to be careful on the quantity of your writing in each block. This may take some practice and even a lot of rewriting.
1. Title
Like for a novel or for a film, a good title is crucial for an abstract, too. The sentence at the top of the page, in a larger font (it's usually 14), should be neither pompous nor meaningless. Coming up with a compact title is not an easy task, but it can also make or break your whole theme. Try out several different titles and see which one is the most evocative, the neatest and the one that expresses the abstract's content best. Write your name under the title (although this is often not allowed for submissions), but now with a 12-point font.
2. Introduction and objectives
The first paragraph elaborates the idea in the title. Here you should explain why you choose this particular topic. You can write about the problem's relevancy or you can talk about why a process needs to be improved, or what new knowledge you would like to present. In most cases you have 400 characters for it. You may be asked to split the introduction into two parts: one paragraph for the introduction and another for the objectives.
3. The methodology
You must explain the methods and data you have worked with to prove that your study is scientifically grounded. The methodology can be varied: it may relate to the place and time of the study, to the subjects involved or for data collection methods, the use of software. If you conducted a survey, you should specify which standardized questionnaires you had used. If you used previous research by others, you should also mention these. You need to describe your methodology in 400 characters typically.
4. Results
Your reader now already knows why you chose your topic and the methods you used for your research. It's time to explain what you have found! This is the longest part of the abstract, you have usually ca. 600 characters to present your results. In this block you support your claim with facts, figures and data while giving a logical argument for its credibility.
5. Conclusion
Finally, draw conclusions about your work: why your study or presentation is relevant, how it contributes to the life and achievements of the field. You can also explain here what theoretical or practical benefits your work brings and what are the main lessons learned. If there are any unanswered questions or problems that need to be solved, include them in your conclusion also. For all of this you have a maximum of 600 characters for an average abstract.
Abstract and conference
Some elements of a conference abstract may differ from a paper to an application or thesis. For example, you might be often asked to include the genre of your presentation; it could be a poster, a thematic presentation, a symposium presentation, etc. You may also be asked to write a few keywords that express your topic the best (typically they will also specify where this information should be included on the page exactly).
It is also not uncommon at all for a conference abstract to serve as a stand-alone document, i.e. not accompanied by a longer paper. As a presenter, you can use the abstract as a crutch to build your presentation. This is particularly useful for shorter speeches, as they hardly could last for several hours.
In addition to the above differences, the abstract plays the same role in conferences as it does in everywhere else. It is used by the organisers to evaluate whether your work is worth presenting, and students can receive and download it in advance to decide whether they are interested in your presentation. At a professional online conference – such as the ones organised by AKCongress – it's much easier to follow your thoughts if you have the outline.
Practice makes perfect!
None of us were born with the science of abstract writing, up our sleeves. It takes practice, because it is far from easy to squeeze a long paper or lecture into this particular nutshell. Even in your native language, not to mention if you have to do it in English or German.
But you have the help you need: if you learn these rules above, you'll be able to make an abstract at a skill level in no time. And it's worth cheating a bit at the beginning: on the internet there are thousands of ready-made abstracts in almost every scientific field. By reading them, you can get a feel for the right style easier!
Photo: Shutterstock
---
---